Sifos equipment qualified for PoE logo certification
Sifos Technologies test equipment may now be utilized to perform Power Sourcing Equipment (PSE) and Powered Device (PD) testing required for Ethernet Alliance (EA) PoE Certification. More specifically, the PSA-3000 PowerSync Analyzer may be utilized for certification testing of 802.3at compliant PSE's and the PDA-602 Powered Device Analyzer may be utilized for certification testing of 802.3at compliant PD's.
Note:
In order to utilize Sifos test equipment for EA certification testing, product designers and manufacturers must first obtain certification from the Ethernet Alliance to operate as an Authorized Testing Lab with the purpose to perform 1st Party testing. There are clear benefits to pursuing this certification. Please contact u should you want to learn more about this.

Why Obtain EA PoE Certification
Obtaining EA PoE Certification for a PSE or a PD allows network equipment and device manufacturers to apply an industry recognized logo, or certification mark, on their certified products and within associated product literature for those products. The EA logo communicates that the marked product is designed to meet all of the technical requirements essential for safety and interoperability according to the IEEE 802.3at industry specification for PSE's and PD's. Customers who deploy PoE in their networks will gain greater confidence that the PoE products they are purchasing are safe, will interoperate correctly, and will not damage non-PoE equipment.

Further, the EA PoE logo clearly and simply communicates a power category for each certified item. This enables users to readily understand if there is a possible mismatch between the power available from a PSE port and the power required by a PD. This feature will especially be vital as the next generation of PoE, IEEE 802.3bt, deploys in the coming years.

Sifos Test Equipment Requirements
Sifos has applied for and successfully received certification for test equipment to certify both PSE's and PD's for the EA PoE Certification Program. This means that Sifos customers who presently utilize this test equipment may apply to become 1st Party Authorized Test Labs. Existing customers can do so without any further investment is Sifos test equipment.

Much like certified PSE's and PD's, test equipment and associated software is certified by hardware, firmware, and software versions. The following table includes Sifos products and versions that have been certified for use by Authorized 1st Party Test Labs.
Application

Hardware

Firmware

Host Software

PSE Testing

PSA-3000 including:

PSA-3202 version 8

Controller: 3.14

Test Blade:

4.0c, ALC Firmware v13

4.2.5

(Includes PSE
Conformance Test Suite 4.2.13)

PSA-3000 including:

PSA-3102 version 8 and/or

PSA-3102 version 6 and/or

PSA-3102 version 5 and/or

PSA-3102 version 4 and/or

PSA-3102 version 3 and/or

PSA-3102 version 1

Controller: 3.14

Test Blade: 3.24

PD Testing

PDA-602B

2.0

1.10

PDA-602B

1.7

To pursue EA certification for PSE's and PD's, testing is performed by sequencing the respective Conformance Test Suite (PSE or PD) using the optional selection for "EA Cert. Test". This option is available under the respective Conformance Test menus and also may be specified using command lines that sequence conformance tests.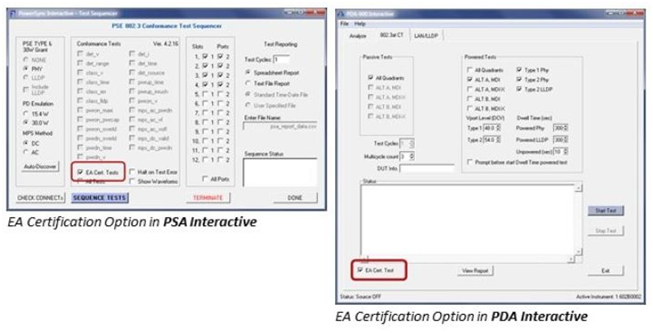 20-04-2018