PSL-3000 Load Tester
The Sifos Technologies PSL-3000 provides a one-box solution to facilitate testing and analysis of IEEE 802.3at Power Sourcing Equipment (PSE) behaviors. Each test port inside a PowerSync 3000 Programmable Load is an autonomous and fully isolated instrument offering stimulus and measurement resources. Test ports are configured and controlled via a high level automation interface, PowerShell PSA, and may also be rapidly accessed and managed from an intuitive graphical user interface,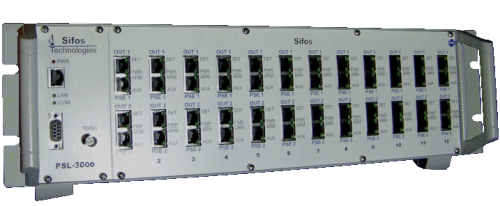 Key Features
Multi-Port PSE Flexible and Accurate DC Loading

Low Cost PSE Analysis

Configure 2 to 24 Test Ports (up to 12 4-Pair PSE Test Ports)

PSA Interactive-PL Graphical User Interface

Flexible PD LLDP Emulation and Analysis

Automated Multi-Port PSE System Testing

Replaces All General Purpose Test Equipment

Multi-Port Live PD Emulation Including LLDP and 4-Pair PoE

Backwards Compatible to PSA-1200-PL

High Level Scripting with Tcl-Based PowerShell PSA

Smart Fan Control - Runs Cool and Quiet
High Power ready
The PSL-3000 offers independent and concurrent capable static load currents up to 750 mA on each test port up to a maximum of 24 test ports per chassis. Current loading is accurate from 0 to 750 mA with independent metering to assess actual loading seen by the PSE. Built-in PD emulation modes enable power-on emulation of PD's ranging from Class 0 to Class 4.
LLDP Emulation

The IEEE 802.3at specification describes new types of PSE's and Powered Devices (PD's) that communicate power needs and power grants using Ethernet layer 2 (LLDP) link protocols. The PSL-3000 is designed with resources to flexibly emulate PD LLDP functions and to analyze LLDP interactions with the PS.


Automated PSE System Testing
PSA-3000's may also be optioned via software keys to run the one-of-a-kind PSE Multi-Port System Performance Suite. PSE Multi-Port automatically evaluates systems of up to 192 PSE ports simultaneously to assess overall power capacities, PSE system power budgeting, port power prioritization, and port state behavior independence. Users may specify PD emulation test conditions with full control of PD class and static loading.

Cost Effective, Scaleable, and Backward Compatible
The PSL-3000 may be configured with 2 to 24 test ports, or with a fixed 24 test ports (PSL-3024) to further reduce per-port cost. Features such as LLDP and Multi-Port Test Suite can also be optioned into each PSL-3000 as needed. The PSL-3000 is Sifos' second generation Programmable Load and offers full programming backward compatibility to the PSA-1200-PL, the first generation Programmable Load from Sifos Technologies. PSL-3000 test software will also run transparently with the PSA-3000 family of PowerSync Analyzers from Sifos Technologies.
How to buy
For any enquiries regarding Sifos range of products, please contact Gerard Fianen at Indes - IDS B.V.