PowerSync® Analyzer 3000 Family
The worlds leader PoE and PoE fully atomated testsystem for lab, production and conformance testting. The PowerSync® 3000 family also covers PoE loads and small 2 port testers.
Power-Over-Ethrnet+ PSE Evaluation, Design, QA, System Test
PSA-3000 and PSA-3024 2 - 48 port PowerSync Analyzer


PSA-3000 & 3048 Key Features
42 Watts Continous per Port
Industry Leading 802.3 PoE PSE Conformance Tests
Fully Automated Multi-Port PSE System Analysis
Flexibly Configured 2 to 24 Test Ports
Accurate Measurements of Voltage, Current, and Noise
Diagnose PSE Problems Quickly with Standard Waveforms
Flexible PD LLDP Emulation and Analysis
Replaces All General Purpose Test Equipment
Software Compatible with PSA-1200, PSA-3002, PSA-3048
Smart Fan Control - Runs Cool and Quiet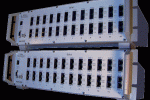 PSA-3048; RackPack PowerSync Analyzer (click to enlarge)
Powerful PSE Analysis with PowerSync Analyzer Scope Displays
Standard PSE state behaviors are just one button click away with the Standard Waveforms feature included with all PowerSync Analyzers.* Ideal for troubleshooting Conformance Test problems or evaluating PSE state transition behaviors.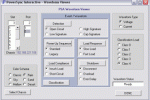 Screenshot (click to enlarge)
How to buy
For any enquiries regarding Sifos range of products, please contact Gerard Fianen at Indes - IDS B.V.