CAN - Ethernet Gateway
Internet communications using TCP/IP is increasing in the industrial sector. With the SYS TEC CAN Ethernet Interface, the so-called CAN-Ethernet Gateway, we provide you with a ready-to-use solution for transparent connection of CAN networks by existing Ethernet topologies.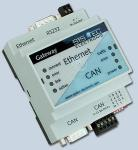 CAN messages are transferred transparently, regardless of the protocol used for communication. This makes our CAN Ethernet Interface applicable for different high-layer protocols such as CANopen DeviceNet or SDS, for example.
Access via Ethernet can be achieved both via TCP and UDP as well. In the process, a CAN-Ethernet Gateway can manage up to 3 active connections simultaneously. This is how you can couple two or more CAN networks and simultaneously access the bus from the PC using a service application.
The CAN-Ethernet Gateway is supplied with up to two CAN-bus interfaces. Easy-to-configure transmission-filters enable sensible limitation of the extent of the CAN messages to be transferred for each interface. The CAN-Ethernet Gateway is intended for high data rates. Transfer peaks in the CAN networks are buffered. With very high data traffic, several CAN packets are consolidated for Ethernet transfer. Chronological transparence is ensured using time stamps, which are applied to every CAN message.
We offer a driver solution for the PC. This makes it possible to easily use standard CAN software such as ProCANopen™, PCANExplorer™. Of course the CAN-Ethernet Gateway can be used with all CAN-bus related software offerd by SYS TEC.
CAN Ethernet Gateway can be configured extensively and enables flexible adaptation to the respective application. The configuration is stored in so-called RC files. A number of RC files for different applications are included as templates in the supply package. You have access to the configuration shell via Telnet or the serial interface (RS 232). No special software is required on the PC.

Highlights CAN-Ethernet Gateway
* Plug & Play – the device is ready for operation immediately
* Configurable transmission-filters for CAN messages
* Variable trigger threshold for transferring CAN messages over Ethernet
* Various configuration examples for different application scenarios
* CANAPI2 interface for use with off-shelf CAN applications
* Configuration and diagnosis via Telnet and RS232
* Support of multipoint connections
* Optional active sending of error and status messages with configurable CAN-identifier
* No special software is required for configuration
* Optional with two separate CAN interfaces

Technical Features CAN-Ethernet Gateway

- CAN interface
* highspeed CAN interface according to CiA specification DS 102, ISO 11898-1/2
* galvanic isolated CAN-bus
* SUB-D9 connector for CAN-bus alternatively 5-pin screw-type connector
- Ethernet interface
* 10baseT, provided via standard RJ45 socket
Power-supply
* 24VDC +20% -60%
* Current consumption typical 90mA
Housing:
* suitable for DIN/EN-rail mounting
* Dimensions: 70 x 100 x 61 (L x B x H; in mm)
Operating conditions
* Operating temperature: 0°C ... +70°C