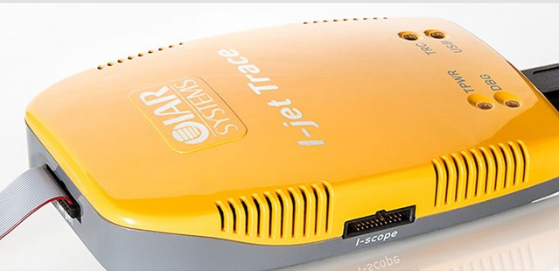 I-jet Trace for Arm Cortex-M
I-jet Trace for Arm Cortex-M provides extensive debugging and trace functionality. It delivers large trace memory capacities and high-speed communication via SuperSpeed USB 3.0. I-jet Trace is equipped with Embedded Trace Macrocell (ETM) trace, supporting all Cortex-M devices with ETM.
Specifications I-jet Trace
Supports Arm Cortex-M cores
SuperSpeed USB 3.0 interface (5 Gbps)
Fully compatible with USB 2.0 (480 Mbps)
No power supply required, powered entirely by the USB port
Target power of up to 400mA can be supplied from I-jet Trace with overload protection
Automatic core recognition
CE/RoHS compliant
Debugging features
JTAG and SWD clocks up to 100 MHz
Support for SWO using Manchester and UART, at up to 200 Mbps
Support for multiple JTAG devices with automatic chain detection and graphical display
Support for JTAG adaptive clocking (RTCK)
Automatic JTAG/SWD detection
JTAG voltage measurement and monitoring
Target power consumption can be measured with ~160µA resolution at up to 200 ksps (kilo samples per second)

Trace features
Trace memory size of 64 Mbyte or 256 Mbyte
1,2 and 4-bit trace data collection
Up to 150MHz ETM trace clock
64-bit time stamp with CPU cycle accuracy for timing analysis
Support for trace logic levels from 1.2V to 5V
Support for MIPI-20 trace header directly

This probe is available in two versions to match different needs of trace memory size.