Root-2 USB Testhost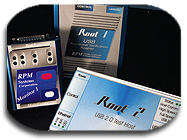 RPM USB Test Host
RPM Systems Corporation's Root 2 USB test host is designed specifically for manufacturing test, development and QA testing of USB peripherals and hubs. Root 2 adds support for USB 2.0 High Speed devices and EHCI USB traffic patterns. Root 2 provides both EIA-232 and Ethernet 10/100 control ports.

The Root 2 tester places all USB operations directly under the control of the test engineer, including:

• Vbus Voltage Level Control
• Vbus power on/off Control
• Vbus Current Measurement
• Suspend/Resume Control
• USB Reset Control

Root 2 provides a variety of special features including:

• RootScript Scripting Capability
• Automatic Mode operation
• Stand-alone Operation
• Field Replaceable USB connectors
• Rugged Anodized Aluminum Enclosures
• Monitor 1 Handheld Test Controller Support
• Two external trigger inputs
• 8-bit general purpose triggered output port for Manufacturing; Product Development; and Quality Assurance
Root Testers in Manufacturing: Fast. Reliable. Repeatable.

Root testers are fast. A basic USB functional test takes less than 1/2 second.

Root testers are reliable, built to survive in a manufacturing environment, accommodating tens of thousands of test cycles without operator intervention. In manufacturing test, device insertions can measure in the millions of cycles. Root testers provide field replaceable Series A connectors which can be hot-swapped in seconds.

Root tester performance is repeatable, ensuring that each device is subjected to the same precise set of test conditions.

Root Testers in Development: Take Control of the USB

Root testers provide the control to allow you to verify each discrete function of your product design, precluding weeks of trial-and-error debugging. Then you can approach your Windows or Mac O/S integration with a proven functional device.

Root Testers in Design Verification: Cover the Corners

Test your USB design on one, ten or a hundred PC hosts, and you haven't begun to explore the worst-case conditions your design could be expected to face in the real world. Root testers provide the unique capability to generate test conditions which seldom occur in normal operation. Root testers verify that your design functions properly across the full range of realworld.