J-Trace for ARM
J-Trace is a small hardware debug trace device for ARM processors.

It connects via USB to the PC host running Windows. IAR J-Trace integrates seamlessly into IAR Embedded Workbench and also works as a standard JTAG debugger through a separate JTAG port.
General features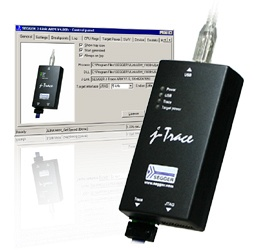 USB-driven JTAG and Trace (38-pin Mictor) interface
Supports all ARM7 and ARM9 devices
Free software updates1, 2 years of support
No power supply required, powered through USB, although external power supply plug is available
JTAG speed 12 MHz
Auto speed recognition
USB 2.0
Adaptive clock based on RTCK JTAG signal
All signals can be monitored, target voltage can be measured
20-pin standard JTAG connector, 38-pin standard Trace Mictor connector
USB, 20-pin flat cable and 38-pin trace cable included
Full integration with the C-SPY Debugger; advanced debugging features available from C-SPY
Integration into IAR Embedded Workbench for ARM makes setup and use easy
Supported platforms: Windows 2000 / XP / 2003 / Vista / 7
Trace features
Trace supports up to 200 MHz full and 100 MHz half clock rate
Trace based on ARM ETM (Embedded Trace Macrocell)
Trace support for devices with built-in trace ports
2 Mbyte trace memory buffer
Compact housing, fits easily on the desk
Silent, fanless design
Support for cycle accurate and compressed tracing
Supports 4 / 8 / 16 bit trace port at both full and half-rate clocking
Trace window synchronizes to source and disassembly window
Function trace shows called functions hierarchically
Package content

J-Trace ARM is delivered with the following components:
J-Trace ARM with standard 20-pin 0.1" male connector (compatible to J-Link) and 38-pin standard Trace Mictor connector
20-pin, 0.1" target ribbon cable
38-pin standard Trace Mictor cable
USB cable
How to buy
The J-Trace for ARM is priced at EUR 995,--
For any enquiries regarding the SEGGER J-Trace for ARM, please contact Glenn Moloney at Indes - IDS B.V.