ISP for AVR
The MPQ-AVR GANG programmer is members of RPM's family of dedicated in-system device programmers. Like all MPQ's, it is designed to be reliable, efficient, flexible and cost effective - all of the features you require in a manufacturing programmer.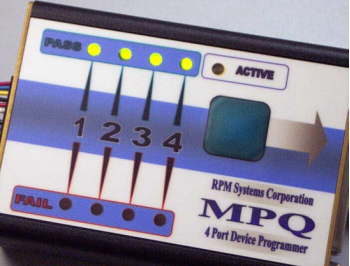 Up to four different target images can be stored in the programmer's internal Flash memory, allowing faster programming times and standalone operation. In addition, our adaptive programming algorithm provides the fastest programming time for each image, while ensuring the image integrity of each device programmed.
Program up to 64 Devices Simultaneously
Four port programming allows each MPQ to program the same image on up to four separate target devices simultaneously, increasing manufacturing throughput fourfold. Up to 16 MPQ's can be interconnected in an array to allow programming of up to 64 devices simultaneously.
Stand-alone, ATE-Controlled or PC-Controlled
MPQ can be operated stand-alone (just press a button to initiate programming), directly from a host PC using MPManager software, or under the control of your Automated Test Equipment (ATE) system.
Supports both SPI and JTAG Programming
MPQ-AVR provides both SPI and JTAG programming support (see ordering options), to accommodate the widest range of AVR devices and customer programming requirements.
Rugged and Ready for Manufacturing World Wide
Features like an extruded aluminum chassis, universal power supply and extensive electrical protection ensure that MPQ-AVR will be at home in any manufacturing environment.
Secure your programming images, preventing them from being read back from the programmer, and define a maximum number of parts to be programmed from each image. Send your MPQ to CM's anywhere in the world without worry.
Powerful Software - Field Upgradable
MPQ-AVR comes complete with MPManager software to provide programmer configuration and image management, PC-controlled device programming, and
more. MPManager also provides the ability to upgrade your MPQ-AVR programmer on site as support for new devices is released by RPM.

Models available :
• MPQ-AVR(SPI) - SPI/PDI Programming Only
• MPQ-AVR(JTAG) - JTAG Programming Only
• MPQ-AVR - Both SPI and JTAG supported
Supported Devices :
Please find the up-to-date supported devices list here >>


How to buy :
Please contact Gerard Fianen to discuss your configuration and get a quotation today.