ISP for TI C2xxx (TMS320F28xx)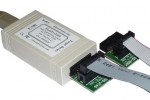 We offer economic but proven In-System Programming (ISP) solutions for your TI F28xxx DSP-based products that can both be used during development as well as for Production programming. Complete ISP Systems start around Euro 300,-- and include advanced software for scripting and serialization. A single PC can programm up to 16 devices in GANG. These are currently the fastest C2xxx/F28xx ISP's available. We also offer programmers for the TI MSP430 and TI Chipcon family.

The FlashPRO-2000 offers :
DSP can be programmed via JTAG or SCI-BOOT interface (TTL level-0-3V).
TMS320F2808 with 128 kB Flash each can be programmed in 11 seconds, and can be erased, blank checked, programmed and verified in 22 seconds.
Up to 16 USB-FPA can be connected to one PC.
Eight devices TMS320F2808 with 128 kB Flash each can be programmed simultaneously in 11 to 14 seconds using Multi-FPA API-DLL and 8 USB-FPAs.
User defined programming sequence uses script file. No programming technique and language knowledge is required.
No code size limitations.
Lock security bits capability.
Easy to use WindowsTM based software.
Programmer accept TI (*.txt), Motorola (*.s19, *.s28, *.s37) and Intel (*.hex) data files for programming. Can also accept the CCS *.out file (uses the TI's hex2000.exe tool for file conversion).
Lock setup capability, useful in production.
Unique serial number assign capability. Software package can assign and automatically increment serial number, model type and revision. Serial Number with or without an automatically inserted current date can be stored in the FLASH memory in HEX, BCD or ASCII format. The serial number can be assigned from the user defined list in the file.
Log file capability allowing to review information about the flashed target devices.
Multi-FPA API-DLL software package can control up to sixteen FlashPro2000 FPAs (working simultaneously) from other programs. Using sixteen FlashPro2000 FPAs the programming time of the 16 target devices is almost the same like programming time of the single target devices programmed from one FPA. Perfect for production usage.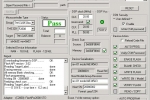 Serialization :
The programming software can assign serial number (S/N), model type, and revision. Each S/N is unique for each programmed device and is assigned automatically. Several SN formats are available. S/N are stored in the target's device Flash memory and in the log file. This Log file contains all assigned SN, models, used S/N formats, used code file names, time, date and so on.

List of the supported F28xx processors vith FLash (02.July.2010) :
Communication via JTAG and SCI-BOOT:
TMS320F2801, TMS320F28015, TMS320F28016, TMS320F2802, TMS320F28022, TMS320F28023, TMS320F28024, TMS320F28025, TMS320F2806, TMS320F28027, TMS320F28032, TMS320F28033, TMS320F28034, TMS320F28035, TMS320F28044, TMS320F2806, TMS320F2808, TMS320F2809, TMS320F2810, TMS320F2811, TMS320F2812, TMS320F28015, TMS320F28232, TMS320F28234, TMS320F28235, TMS320F28332, TMS320F28334, TMS320F28335.
New: Communication via SCI-BOOT only:
TMS320F2401, TMS320F2401A, TMS320F2402, TMS320F2402A, TMS320F2403A, TMS320F2406, TMS320F2406A, TMS320F2407, TMS320F2407A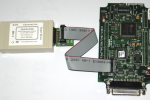 How to buy :
Please contact Gerard Fianen to discuss your configuration and get a quotation today.