USB - CAN Module2 - IP65
For rough application environments our USB-CANmodul2 is available as IP65 version. The robust metal housing with appropriate connectors is suitable for the usage at special machinery and special-purpose vehicles. The IP65 version is based on the USB-CANmodul2 and features 2 CAN channels that are galvanically isolated.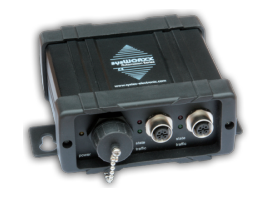 Key features
* 2 high-speed CAN interfaces
* Time-stamped CAN messages
* Reliable error handling
* Supports "listen-only" mode for use with analyzing tools
* Low power consumption, USB powered
* Excellent EMC performance
* Works with USB2.0 hubs
* Quick and easy Plug&Play installation
* Up to 64 CAN-channels can be used simultaneously on the same PC
Software Support
* Configuration tool for managing multiple USB-CANmodul devices
* PCAN View, a simple CAN monitor that allows for reception and transmission
of CAN messages
* Programmers API and demo source for Microsoft Visual C++, LabView,
Visual Basic .NET
* Device drivers available for Windows 2000/XP/Vista, WinCE 5.0, WinCE 6.0
* We provide the latest driver updates on our homepage for downloading.
Technical Data
* High-speed CAN interface according to ISO 11898-2
* Supported bit rates: 10 to 1000 kbps
* Supports 11-bit (CAN 2.0A) and 29-bit (CAN 2.0B active) identifiers
* Galvanic isolation (no external power supply required)
* USB full-speed function device, USB 2.0 compliant, transmission type: bulk, 12 Mbps
* CAN-bus interface connector: 2x M12
* LEDs for power-supply, CAN state and CAN traffic for each channel
* CE conformity
* Power consumption typ. 150mA, USB powered
* Operating temperature: -40°C...+85°C
Scope of delivery
* Assembled and tested device,
* Documentation on CD
* Device drivers
* PCAN View CAN-bus monitor
* Evaluation versions of CAN-REport and CANopen Configuration Suite