Flasher STM8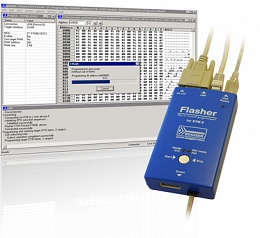 Flasher STM8 is a programming tool for microcontrollers with on-chip Flash memory and STM8 core. Flasher STM8 is designed for programming flash targets with a PC program or stand-alone. Flasher STM8 connects via USB, via ethernet or via RS232 interface to a PC, running Microsoft Windows 2000, -XP, -2003, -Vista or Windows 7. Flasher STM8 has a built-in 10-pin interface connector and a built-in 4-pin interface connector, which are compatible with the debug connectors used by STM8 eval systems.
Features
All STM8 devices can be programmed

Integrated optical isolation between host and target system

Standard 4-pin SWIM connector

USB 2.0 interface

Full duplex 100Mbit Ethernet interface

Target voltage can be measured & monitored during program

Fully plug and play compatible

USB, Ethernet, RS232 and 4-pin ribbon cable included

Windows PC software included

Target power supply via pin 1 of the 4-pin interface (up to 300mA to target with overload protection)
Software and user manual download here >>
How to buy :
Please contact Gerard Fianen to discuss your configuration and get a quotation today.