Flasher ST7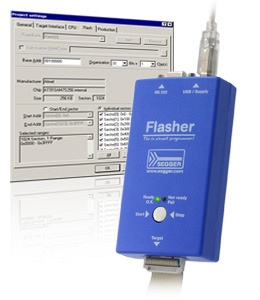 Flash Programmer for for ST7 series of microcontrollers with on-chip flash.
Flasher-ST7 is a programming tool for microcontrollers with on-chip Flash memory. Flasher-ST7 is designed for programming flash targets with the J-Flash software or stand-alone. In addition to that Flasher-ST7 has all of the J-Link functionality. Flasher-ST7connects via USB or via RS232 interface to a PC, running Microsoft Windows 2000, Windows XP, Windows 2003 or Windows Vista.
Features :
* Small, compact housing
* Easy to use windows program
* Serial (in target) programming supported
* Programming / Verifying / Read back supported
* OPTION BYTE Programming supported
* 512 KByte internal Flash memory to store target program
* High speed programming: app 12 sec for 60 kb in serial mode with 16 MHz target clock for programming and verification
* Can be used in a production environment
* PC program allows batch mode processing for usage in automated test systems.
* Once set up, Flasher can be controlled without the use of PC program
* ASCII command interface to control Flasher without the use of PC program (Requires firmware version 1.84 or above)
How to buy :
Please contact Gerard Fianen to discuss your configuration and get a quotation today.