Percepio Device Firmware Monitor
The next step in IoT Software Quality Assurance
Percepio's Device Firmware Monitor (DFM) is a ground-breaking new cloud service for IoT product organizations that provides awareness of firmware problems in deployed devices and speeds up resolution. When a firmware issue has been detected, DFM notifies the developers within seconds and provides diagnostic information about the issue, including a trace for Percepio Tracealyzer. This shows what was going on in the code when the error occurred, making it far easier to understand the problem and quickly find a solution.
"Percepio's Device Firmware Monitor is a game-changer in that it enables instant feedback from systems deployed in the field, to ensure your firmware quality is constantly improving."
Jack Ganssle, Principal Consultant, TGG
"Percepio's Device Firmware Monitor is early to the market and original. IoT developers need this sort of direct feedback from their deployed systems."
William E. Lamie, President, Express Logic
Without automatic feedback, you actually rely on your end users to report any issues, a responsibility they have not agreed to. Then you might not hear about the issues until it's too late, when many customers have already been affected. Moreover, your end users can't be expected to provide sufficiently detailed information for you to quickly identify and solve the problem. A vague error report like "the screen went black" may require weeks of guesswork until you find a likely cause, and even then, you still don't know if really you solved the right problem. Imagine how much troubleshooting time that could be saved if you instead had access to detailed diagnostic information about every issue in the production software.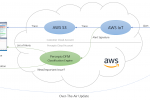 DFM is designed to leverage existing secure solutions for cloud connectivity, storage and OTA updates. Percepio DFM initially supports Amazon Web Services (AWS IoT Core) and Amazon FreeRTOS, but support for additional platforms is planned and can be provided on request.

Percepio is looking for early adopters to provide feedback. By joining our pilot program, you get to use the Percepio DFM service for free!
For more information about the Device Firmware Monitor please do not hesitate to contact Gerard Fianen at INDES-IDS BV to discuss your application and configuration.
01-03-2019