SCIOPTA RTOS for Freescale's® MPC5510 Microcontroller
SCIOPTA Systems AG is announcing the immediate availability of the SCIOPTA Real-Time Operating Systems for the MPC5510 processor.
The SCIOPTA MPC5510 RTOS is written in highly optimized assembler and specifically tuned for the MPC5510 processors. This results in a very high performance and a low memory footprint. The MPC5510 kernel is Power ArchitectureTM Book E-compliant (e200z1 core) and fully supports Variable Length Encoding (VLE)
SCIOPTA MPC5510 is certified according to IEC61508 up to SIL3.
Beside the fast Real-Time Kernel there is IPS (Internet Protocols, TCP/IP), IPS Applications (Web Server, DHCP, DNS, SMTP, Telnet, TFTP etc.), SFFS (Flash File Systems), USB support, embedded GUI graphics support and the DRUID System Level Debugger available.
SCIOPTA is royalty free and supports actually the C/C++ compilers and environments from GNU GCC and Windriver/DIAB. A precompiled version of GCC is included on the SCIOPTA CD.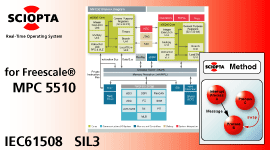 Freescale's® MPC5510
Designed for body electronics, the MPC5510 family of 32-bit microcontrollers is Freescale Semiconductor's latest achievement in integrated automotive application controllers for this space. It belongs to an expanding family of automotive-focused products that address the next wave of central body and gateway applications within the vehicle. Freescale's advanced, cost-efficient MPC5510 automotive controller family is built on Power Architecture TM technology . It operates at speeds of up to 80 MHz with two e200z cores offering high performance processing and flexibility while continuing to meet low power requirements.
Features
Power ArchitectureTM Book E-compliant e200z1 core with Variable Length Encoding (VLE)

Optional VLE-only 32/16-bit e200z0 secondary core

16 channel eDMA (enhanced Direct Memory Access)

Memory Management Unit (MMU) with 4-entry translation look-aside buffer (TLB)

Multiple low-power modes

JTAG and Nexus Class 2+ debug support

Up to 1.5MB of Flash with Error Correction Coding (ECC)

The flash module features Read While Write (RWW) and small partitions for optimal

bootloader and EEPROM emulation support.

Up to 80KB of SRAM with ECC

Memory Protection Unit (MPU) with up to 16 regions and 32-bytes granularity


About SCIOPTA

SCIOPTA Systems develops, sells, supports and maintains systems software for safety-critical embedded applications.
This includes real-time operating systems, network software, file systems, software for interface bus systems, board support packages and other system software.
SCIOPTA is a message based real-time operating system with many built-in safety functions and is therefore very well suited for software forming part of safety-related systems. SCIOPTA is certified by TÜV to IEC61508 at Safety Integrity Level 3 (SIL3).
But SCIOPTA is more than just an RTOS. It is a new and modern approach to design embedded systems. The direct message passing method allows easy and time-saving design of robust and secure systems. Applications based on the SCIOPTA Method can cover small static SoC designs to large dynamic distributed systems.
10-03-2010